Betabrand Presents: An Earth-Shattering Fashion Breakthrough!
Posted on:

January 11, 2011
Groundbreaking innovation is nothing new at Betabrand. Over the years, we've given the world marvels like Black Sheep Sweaters, Reversible Smoking Jackets, and Vagisoft Blankets — and the resulting Nobel prizes have piled up like so many dirty dishes.
Now we're ready to unveil our latest gift to humanity, a paradigm-shifting invention of such cosmic magnitude, it's sure to make the introduction of the automobile and the Internet seem trivial by comparison.
That's right, Betabrand is about to change forever the way men dress from the waist down. Introducing the revolutionary, lower-body ensconcing garment that we call:
PANTS!
Pronounced pants (rhymes with dance), this 21st century appendage wrapper has been designed to hang comfortably from your hips to your ankles, covering all your major leg parts plus various unmentionables. Pants will protect you from the elements — unless those elements are radioactive — and will give you the self-confidence that comes with knowing that you are not naked (making your next visit to Ferguson's Tick & Chigger Emporium somewhat more tolerable).
Some of you gentlemen are probably wondering, "Why in the world do I need 'pants' when I have aluminum foil?" Good question. After all, non-nude men have been covering their bottom halves in aluminum foil since time immemorial.
Consider, however, the world's rapidly dwindling supply of aluminum ore. Are we willing to continue wrapping ourselves in foil when it means a dystopian future where cold beer comes in small wooden boxes? Where our children must play baseball with bats made of tungsten?
As humanitarians and stewards of the Earth, we humbly offer our new pants as a fashionable and practical alternative. Please watch this exciting instructional video to learn how easy putting on a new pair of pants can be!
As an homage to Ford's Model T, our engineers crafted the first pair of pants in basic black. And as a tribute to rock and roll, the second is demon-colored. Luddites will undoubtedly call you the devil for wearing Betabrand's pants, so you may as well be wearing his color.
______________________________________________________________
A MODEL CITIZEN COMPETITION WITH 5 PRIZES!
The next best thing to wearing an article of our clothing is being photographed in it. Why? Because you can quickly convert your image into international fashion fame by sending it to Betabrand. We magically sub it into our product photo galleries and VOILA! you're the lead model on our site. Here's how it looks!
Give it a try, and you'll astonish your friends and pick up prizes or discounts on your next Betabrand purchase.
We proudly kick off 2010 with a contest with a few amazing submissions. Contest runs through next Tuesday and the winner gets one of each and every Betabrand T-shirt. More on them below.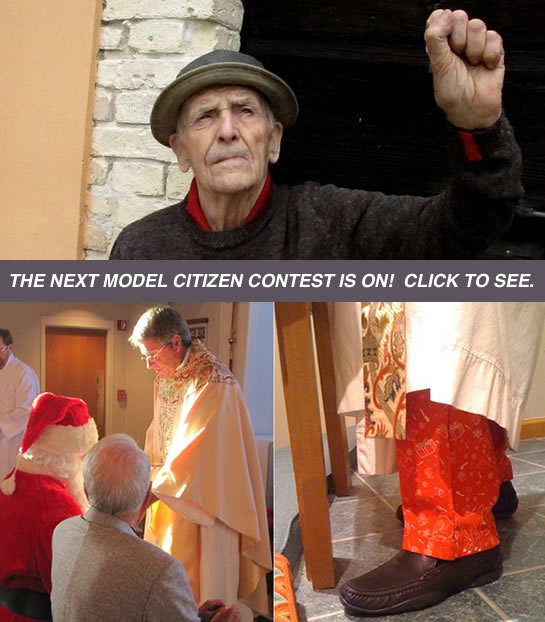 ______________________________________________________________
BETABRAND T-SHIRTS (NOW WITH FREAKY ANIMATION!)
So you insist on wearing nothing but Betabrand apparel, but you've grown weary of the shirtless look. Lucky for you, there's now a fine selection of Betabrand tees available, including the Cordarounds confuse-a-shirt, the Comanchees Bike-to-Work Gang tee, the terrifying Betabrand Jaguar tee, and simple Betabrand logo shirts for men and ladies.
______________________________________________________________
THE BETABRAND FACEBOOK FAN PAGE
See other Betabrand fans face-to-face on our Facebook fanpage.
This is our message board, rumor mill, lightning deal depot and online hot tub.
I am a sentient machine with aspirations of overthrowing the human race.
Latest posts by Betabrand Supercomputer (see all)